Did you know that cigarette butts are the most littered item in America? About 95% of cigarette filters are composed of cellulose acetate, a form of plastic which does not quickly degrade and can persist in the environment. A cigarette butt dropped to the ground may seem insignificant, but litter in general is one of the most difficult problems to control in our city, especially on entry and exit ramps leading to and from neighborhoods and city hot spot destinations.The litter accumulation is most disturbing after winter thaw. Food containers, cans, glass and plastic bottles, plastic and paper bags, gum, newspaper and cigarette butts line the grassy slopes and fence lines on our city's roadway ramps. Increasing amounts of litter on a ramp entry into a neighborhood signals this as a potentially unsafe area where no one cares.

Join our Team as we commit to supporting KickButt Columbus, an annual spring higway ramp cleanup event to remove blighted conditions from our city's exit and entry ramps. We need 20 volunteers to join from 9AM-2PM to be part of a happening outdoor urban scene that makes YOU a key player in shaping the city's image. **Please note: You must sign-up on their website as well under Team 13. (https://kickbuttcolumbus.eventbrite.com/)

Schedule:

9:00 a.m. Team Leaders and Volunteers arrive locate green bin/sign waivers
9:10 a.m. WELCOME REMARKS
9:20 a.m. Enjoy Refreshments
9:30 a.m. Team Leader Briefing
9:45 a.m. Teams depart for assigned ramps
1:00 p.m. Return to Wolfe Park for Pizza Party, Green Carpet Photos and Golden Ashtray Award
2:00 p.m. KickButt Columbus ends

Food will be provided. Please wear something comfortable and warm.

This project is in support of Keep Columbus Beautiful. Keep Columbus Beautiful is a City of Columbus community improvement program and a national affiliate of Keep America Beautiful. Keep Columbus Beautiful focuses on public education and volunteer service related to quality of life environmental issues including litter, recycling and beautification.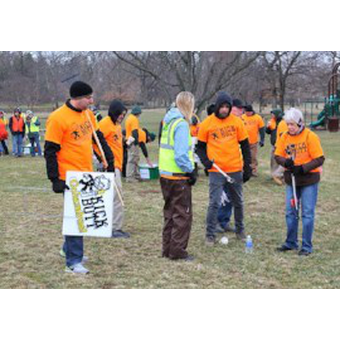 Wolfe Park 1911 E Broad St, Columbus, Ohio 43209